Electronica 2018 Round Up
Wow what a week! I think I've just about recovered from the mega exhibition that is Electronica. It definitely lives up to its status as the biggest electronics show in the world, with the final figures totalling over 80,000 visitors through the doors to see more than 3,100 exhibitors.
For the first time the show used 17 halls spanning a total 190,000m², even my Fitbit gave up half way through the week, but I'm pretty sure I averaged around 22,000 steps a day – I'm sure that wasn't the highest step count recorded at Electronica. Steps aside, it's one of the best exhibitions for visitors to come and see products all in one place, talk to experts and get a sense of what is happening in our industry.
My favorite moment on the Harwin stand
Gin Cocktails
This year we decided to bring a bit of home with us to Munich and to our guests. Inspired by the Hampshire-based Bombay Sapphire gin distillery, Harwin served some amazing gin cocktails on the stand – I know that sounds biased, and it is, but in a city known for its beer there were a lot of empty gin glasses collected.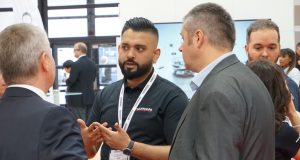 My favorite moments from around the show
Footballs
In a year where football has brought nations together during the FIFA World Cup (including me and I'm not a football fan), my favourite thing to see around the show was visitors walking around with big Digi-Key footballs. Every day there were more and more footballs passing by; I even saw one in our hotel lobby.
Wireless
The wireless displays in Hall C3 blew me away with so much innovation and creativity in one place, the power of 4.0 and the future of connectivity was amazing. Also new this year was the introduction of speaker forums in each hall, which meant you could drop into a session anytime in the relevant places, without walking miles out of your way.
Robotics
There were a lot of advanced robots at the show this year; now everyone likes to stop and watch a robot, but companies like TTI were using them not just to impress visitors but to showcase electronics in applications which were relevant and looked very cool.
Here are some of my favorite pictures from the show:
Uh oh, it looks like you are using an outdated browser version.
Some functions may not work as expected on Harwin.com in your current browser. For the best experience, more security and speed, we recommend updating your browser to the latest version.
(if you are using Internet Explorer, we recommend switching to an alternative browser.)
Still having issue? Contact [email protected] for help.