Driving Product Innovation through Apprenticeships and Training
For many years Harwin has offered engineering apprenticeships in a multifaceted environment that provide training, support and real-world experience to its apprentices. Last year the Harwin Academy was formally established in conjunction with a local College, enabling students to obtain an engineering qualification while also gaining experience at Harwin Portsmouth headquarters, before applying for a full-time apprenticeship. As part of the continued drive to address the skills gap within the engineering sector, Harwin has formally opened an Apprentice Training Hub, along with a new state-of-the-art R&D Center.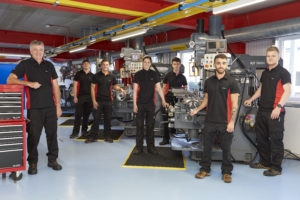 From September 2019 onward, those joining the apprentice program will benefit from ultra-modern, fully-equipped facilities that are certain to provide an enhanced environment in which to develop their engineering skills. Likewise, the R&D division is going to have access to cutting-edge resources that will significantly accelerate product development cycles.
The opening ceremony was conducted by the current Astronomer Royal, astrophysicist Professor Lord Martin Rees. Also in attendance were leading representatives of the scientific community, including geneticist Dr Stephen Oppenheimer, the Lord Mayor of Portsmouth, Penny Mordaunt MP and other local dignitaries.
Offering apprenticeships has long been at the heart of Harwin's recruitment strategy, and has allowed us to build and nurture an exceptional workforce. At any point, on average, twenty percent of our employees are involved in some form of personal advancement program. Through continuous investment in training, we are ensuring that we have the engineering expertise necessary to create highly productive teams capable of addressing future challenges.
In addition, the R&D Center is pivotal to our program of developing next generation technologies to serve the ever-changing global electronics market, giving us the product differentiation needed to keep us at the forefront of interconnect technology.
Uh oh, it looks like you are using an outdated browser version.
Some functions may not work as expected on Harwin.com in your current browser. For the best experience, more security and speed, we recommend updating your browser to the latest version.
(if you are using Internet Explorer, we recommend switching to an alternative browser.)
Still having issue? Contact [email protected] for help.