How NASA Sent The First Humanoid Robot To The ISS
On 24th February 2011, Robonaut 2 launched on board the last flight of the Discovery space shuttle, heading for the International Space Station, fulfilling a 15-year dream to put a humanoid robot into space. The Robonaut program was conceived by NASA and General Motors to design and build a robot that could help people work in and explore space, assisting humans, or operating alone in hazardous environments.
Over the past 60 years space flight tools and hardware have been designed to be used by human astronauts, including a substantial amount of in-flight and Extra-Vehicular tools. Engineers designed Robonaut 2, or R2, to be humanoid, making it easier for R2 to do the same jobs as a person. Built to match the size of an astronaut in a space suit, Robonaut had two arms, two five-fingered hands, a head and a torso. Both hands operated with dexterity levels, motion, strength and endurance capabilities that exceeded that of a suited astronaut.
Robonaut's wide range of sensors included thermal, position, tactile, force and torque instrumentation, with over 150 sensors per arm. The control system included an on-board, real-time CPU with miniature data acquisition and power management in a small, environmentally hardened body. Off-board guidance was possible with human supervision by using a control station with human tracking.
Rugged, high reliability interconnects are essential for space applications, preferably in a miniature and lightweight package. With a complex electronics design, R2 required large amounts of data to be sent from the sensors in the head and hands to the central control system. The modular design of Robonaut also allowed for adjustments to be made to an arm or hand without taking the whole unit out of action.
The design team of Robonaut 2 specified the need for a board-to-board connector that could handle currents between 10 and 15 amps. They chose to include the Datamate Mix-Tek range that incorporates power and signal connectors in one housing. With several different configuration requirements, Datamate Mix-Tek was chosen based on its versatility and durability. The Datamate range from Harwin has been successfully used in other defense and space projects that are subject to extremes of shock, vibration and temperature.
Harwin's Mix-Tek Datamate connectors are used all over Robonaut, specifically in the head and arms. The four-finger Beryllium Copper contact clip, ensures contact reliability, housed within polarized moldings that assists with blind mating. There are numerous configuration possibilities with a combination of signal, power and coax in the Datamate Mix-Tek range.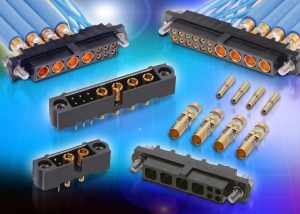 EMC Shielding was a critical factor for the design team of Robonaut 2 as any hardware in operation on the ISS (and the Shuttle itself) must not interfere electrically with other systems onboard, nor be susceptible to EMI itself. Therefore, the Datamate Mix-Tek connectors with metal backshells provided shielding against RFI and EMI interference.
Robonaut is currently back on Earth after undergoing some modifications and maintenance at NASA's Johnson Space Center in Houston, Texas. With the final tests almost complete, NASA plans to send R2 back into orbit very soon.
Watch the unpacking of Robonaut on the International Space Station.
Uh oh, it looks like you are using an outdated browser version.
Some functions may not work as expected on Harwin.com in your current browser. For the best experience, more security and speed, we recommend updating your browser to the latest version.
(if you are using Internet Explorer, we recommend switching to an alternative browser.)
Still having issue? Contact [email protected] for help.