Active Product
H8502-05
Female Vertical Throughboard Ø0.80mm Contact
Sockets - Individual Throughboard PCB Socket
Traceparts account required
Product Description
PC Board Socket for mating Ø0.80mm Pin, retention feature – Gold finish on contact area and termination.
Uses 4-finger Beryllium Copper contact clip – Vibration 10-2,000Hz, 10G, 6 hours.
Product still requires soldering for electrical connection.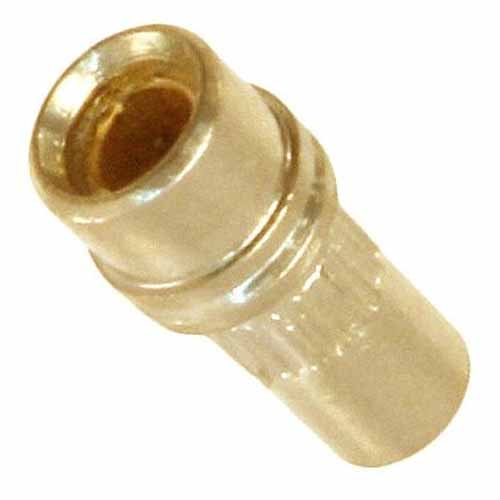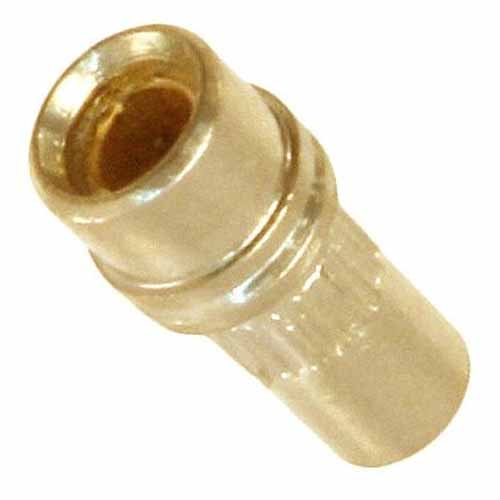 Traceparts account required
Technical Details
Specification
EU RoHS Status:
Current Rating:
10A max at 25°C, 7.5A max at 85°C
Soldering Data:
Max Solder Temperature: 260°C for 10 seconds
Materials
Finish / Plating on Termination:
Finish / Plating on Contact Surface:
Base Material of Contact:
Beryllium Copper contact clip, Brass shell
Dimensions
Overall Dimensions (L x W x D) in mm:
Height of Connector above PCB:
Length of Throughboard Tail:
How do I assemble this knurled contact? Does it need soldering as well?
The knurl on the contact is for additional mechanical retention only – it will need soldering for a true gas-tight joint. The contact is simply pressed into the PCB, with a bench press or similar.
Why is there no voltage rating for this contact?
Voltage rating is calculated from the flashover voltage – the voltage at which the electricity can break down the air gap and jump between two contacts. With a single contact, the voltage rating you achieve will depend on the space you leave between two contacts, or a contact and any other conducting element. So we are unable to give a voltage rating for single contacts, as it will depend on your usage.
Are these available in tape and reel?
Sorry, but our PCB turned sockets are not offered in a tape and reel format. To use them as part of an automated system, you would have to consider something like a vibratory bowl feed. Our SMT stamped contacts are available in tape and reel: SYCAMORE Contacts S9111-45R, S9121-45R, S9131-45R and S9141-45R, or our Twin-Beam SMT contacts S9091-46R and S9101-46R.
Why do we need to solder this press-fit socket, and what method should I use?
The knurl on this PCB contact is solely for mechanical retention. It is not intended to give a gas-tight joint when assembled into a plated-through hole, and performance may vary or be unreliable. We therefore strongly recommend that the PCB socket is soldered to the applicable area of the PCB. Wave soldering or hand soldering on the PCB underside should be suitable methods – pin-in-paste soldering may be possible, but you will need to check how much solder is maintained after assembling the socket.
Downloads
ENVIRONMENTAL COMPLIANCE
RoHS Compliant (2015/863/EU) with Exemption 6c
PDF
Download
How can we help you?
If you would like to talk to someone about Harwin's product, technical knowledge or documentation, contact one of our Experts for assistance.
Loading available ECAD formats...
ECAD Download Options
These ECAD files are provided by TraceParts
Register now or enter your registered email below
An error occured, please make sure you've selected a format or try again later.
Your download has started, please check your download folder.
Uh oh, it looks like you are using an outdated browser version.
Some functions may not work as expected on Harwin.com in your current browser. For the best experience, more security and speed, we recommend updating your browser to the latest version.
(if you are using Internet Explorer, we recommend switching to an alternative browser.)
Still having issue? Contact [email protected] for help.