It's been a busy year at Harwin, and we've accomplished a lot! We've launched new products, given and received awards, welcomed some new faces and launched a new website – and the year is not over yet!
As we dust off the Christmas playlist and untangle the fairy lights, let's look back at some of team Harwin's highlights from the past 12 months.
New Product Introductions
In 2019 we expanded several of our product ranges to incorporate more variations that offer the design flexibility you need to continue creating and innovating new technology.
Ready-Made Cable Assemblies
Datamate – The J-Tek and L-Tek connectors were released in ready-made cable assemblies for a complete plug-and-play solution in both signal and power configurations.
Gecko-SL – The popular Gecko Screw-Lok range has been made more accessible with the addition of off-the-shelf cables, reducing tooling costs and assembly time in production lines.
We added to our board level EMC shield clips and cans with new miniature shield clips to accompany shield cans of 0.3, 0.2 and 0.15mm thickness. Plus, we introduced a new corner clip to the range to protect against additional RF leakage.
The latest addition to the high-rel connector range was the smallest, lightest mixed-layout connector around, combining 2A signal and 10A power contacts on a 1.25mm pitch connector.
New Apprentice Training Hub
This year we formally opened an Apprentice Training Hub, along with a new state-of-the-art R&D Center at our Portsmouth Headquarters.
The ultra-modern, fully-equipped Training Hub provides an enhanced environment to develop our apprentices engineering skills. While the new R&D center has access to cutting-edge resources that will significantly accelerate our product development cycles.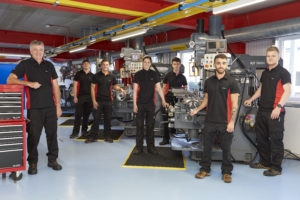 Social Media
In 2019 we joined Instagram (@HarwinGroup) to give our customers a peak into what goes on behind the scenes at Harwin and to meet more of us at #TeamHarwin.
We also joined WeChat, China's most popular messaging app that allows you to post social updates, make payments or even book a taxi. Scan the code to check out our official account.
University Sponsorship's
Each year we sponsor a number of University teams with bursaries and products to support their projects and help them succeed. We're very proud of all the team's achievements this year, here are a few of their highlights.
Team Sonnenwagen Aachen – Harwin sponsored the team from RWTH Aachen University, Germany, in the Bridgestone World Solar Challenge – A race across the Australian outback in their solar-powered vehicle, equipped with Harwin M300 high-power connectors.
Their hard-work, preparation and enthusiasm worked in their favour until nature unfortunately blew them off course (literally) and they finished in a respectable 5th place. Still, to their credit the team took home the 'Spirit of the Event' and 'Safety' awards.
WUSAT – Harwin have sponsored the multi-disciplinary team at Warwick University, UK, for several years and through various satellite projects. The most recent WUSAT-3 satellite features the Gecko-SL connectors and after a successful presentation to ESA this year, will hopefully launch in 2020 to the ISS to begin its joint-mission with the ICARUS project to track the migration patterns of remote wild animals.
Waterloo Rocketry – Harwin sponsored the team from the University of Waterloo, Canada, at the 2019 Spaceport America Cup – The world's largest intercollegiate rocket engineering competition in New Mexico, USA. The competition sees 120 teams from 14 countries competing to design, build, and fly rockets that reach 10,000 and 30,000 feet.
The rocket successfully flew to over 15000 feet and the team finished in 2nd place in the '30K Hybrid / Liquid & Other' category. Unfortunately, the recovery system failed to deploy the main parachute, and the rocket hit the ground a little harder than expected, but all of the electronic systems onboard survived, including the Datamate J-Tek connectors from Harwin.
Awards
We started 2019 with a celebration at Durham University where Chairman of Harwin, Damon de Laszlo was presented with the degree of Master of Science Honoris Causa in recognition of his lifetime generosity and contribution to the preservation of ancient art and the future development of science.
We ended the year with another celebration in London at the Elektra awards where Damon received the Lifetime Achievement Award, acknowledging his commitment to nurturing new generations of engineering talent and efforts to ensure that a strong electronics manufacturing base remains in Europe.
5 Star Awards
Celebrating the "best-of-the-best" within the component supply channel.
Harwin Director Andrew McQuilken commented "Harwin's Global Sales & Marketing Teams nominated these individuals for the fantastic work they do, both for their companies, and for Harwin as a key supplier. We're very pleased to present the awards to these individuals in recognition of their exceptional effort!"
The winners were; Claudia Daimer (Mouser), Matt Nemec (Digi-Key) and Deanna Peterson (Digi-Key), John Sandy (TTI), Henrik Gunther (Avnet Abacus).
Great South Run
We raised £3,000 for the Rowans Hospice in sponsorship and donations. A huge thank you to our sponsors and a massive well done to our 17 volunteers who completed the 10-mile annual race around Portsmouth city.
The Interconnect Guru
Bringing you the latest innovations in connector technology from Harwin all year round! Watch out for more videos from the Interconnect Guru in 2020.
New website
We launched our brand-new website. Set up your MyHarwin account and gain access to; direct evaluation samples, unlimited CAD downloads, technical whitepapers and documentation, the Cable Generator and more!
AS/EN9100 Recertification
In November Harwin was audited for compliance to the EN9100 Rev D standard and was recommended for re-certification. The standard promotes a culture of continuous improvement, something that is very much a focus for all areas of the business!
From all at Harwin, we hope you have a very Merry Christmas and a Happy New Year!
Uh oh, it looks like you are using an outdated browser version.
Some functions may not work as expected on Harwin.com in your current browser. For the best experience, more security and speed, we recommend updating your browser to the latest version.
(if you are using Internet Explorer, we recommend switching to an alternative browser.)
Still having issue? Contact [email protected] for help.