Another one bites the dust! 2018 got off to a great start with the launch of 'Archer Kontrol' joining the established 'Archer' 1.27mm industrial connector family. Now we've come full circle after another fantastic show at Electronica in Munich announcing our new 'M225' industrial cable-to-board connector.
It's once again time to reflect on our achievements in 2018 before we all head home for the holiday season to relax and reset for 2019.
The Harwin Academy at Havant and South Downs College
In September 2018 the first term of the Harwin Academy at Havant and South Downs College began. An exciting collaboration in which aspiring young engineers will gain comprehensive training, combining classroom-based education and practical hands-on experience working at our headquarters in Portsmouth. In addition to their involvement in various elements of the business they will have the opportunity to apply for an apprenticeship with Harwin.
Update 2021: Harwin Academy is now offered in partnership with another training establishment – please contact [email protected] for more information.
New Factory Expansion in Portsmouth
Harwin has continued to expand the manufacturing capacity at our head office in Portsmouth this year by acquiring additional manufacturing premises, in Marshland Spur, Portsmouth. After several years of double digit growth for the company, the new facility will assist with increased production and future developments.
New Product Introductions
This year our design engineers have outdone themselves, adding a record breaking 843 new product part numbers to our catalogue! Here are just some of the product ranges with new releases this year: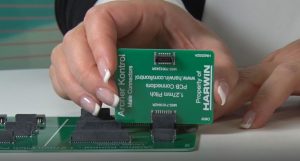 Exhibitions
Embedded World – At the beginning of the year the launch of our new Archer Kontrol industrial connector range received a warm welcome at Embedded World in Nuremberg.
Hardware Pioneers – We met some inspiring new start-ups in London this summer working on IoT and Industry 4.0 developments giving us 3 key trends that will define industrial IoT in the coming months.
Electronics Design Show – Our resident EMC expert hosted an educational workshop on 'PCB Design Techniques for EMC' at Coventry's Ricoh Arena in October.
Electronica – The biggest electronics show in the world returned to Munich in November as did we. Along with several new product launches, a stags head and lots and lots of gin – read our highlights from the show.
EN9100 / AS9100D accreditation
In September Harwin celebrated the successful transition of our quality assurance standard to certification EN 9100:2018 (equivalent to AS9100D) at our manufacturing facility in Portsmouth, UK. A testament to the continuous improvement and investment that the company values at all levels within the organisation.
Team Harwin took on a Challenge…
Electronic Sourcing Industry Football Match – Harwin formed an elite team of football fanatics to take part in the annual Electronics Sourcing Magazine industry football match in June. The matches took place at Sussex County FA stadium in Lancing, UK, with 12 teams participating from across the industry. The match event contributed to raising funds for local charity 'Albion in the Community' collecting £3,034.90 in total.
Great South Run – Team Harwin (image at top of page) once again laced up their running shoes for the Great South Run around Portsmouth in October. Fortunately the weather was on our side as we saw some rare rays of sunshine on the coast that weekend.
22 volunteers trained hard and completed the 10 mile course to raise money for two great causes; Meningitis Now and Macmillan Cancer Support, raising a total of £3,078 in donations. Go team!
Watch our year in review video below for our best bits and bloopers from 2018.
With just a few more sleeps until Christmas, we hope you have yourselves a very Merry Christmas and a Happy New Year!
Uh oh, it looks like you are using an outdated browser version.
Some functions may not work as expected on Harwin.com in your current browser. For the best experience, more security and speed, we recommend updating your browser to the latest version.
(if you are using Internet Explorer, we recommend switching to an alternative browser.)
Still having issue? Contact [email protected] for help.