Where did that go?! 2017 seems to have disappeared in a blink of an eye and suddenly I'm surrounded by tinsel and Mariah Carey, again!
What a year we've had though, now that we're wrapping up for Christmas (no pun intended) we thought it's a good time to reflect on what this year has brought us and where we're headed in 2018.
1.   EN9100 / AS 9100C Status
This year we were awarded the EN 9100 / AS9100C accreditationin recognition of Harwin's commitment to quality and supply chain excellence, particularly in the aerospace industry.
As a company that truly values continuous improvement throughout the organisation, the accreditation is a testament to the steps we take to ensure organisational excellence at every level. We're already working on the next steps to achieving EN9100/AS9100D in 2018 – the sky's the limit!
2.   New Product Introductions
Our design engineers have definitely had a busy year adding 267 new product part numbers to our catalogue! The additions include further options to existing product ranges and new products launched in our high reliability, industry standard and EMC shielding ranges. Here's a quick recap of the new products in stock:
SYCAMORE Contact – The 3-point SYCAMORE Contact is a low profile, single piece SMT socket in a unique and reliable design, available in top and bottom entry styles.
Datamate Coax Cables – We launched off-the-shelf Datamate coax cables that deliver a complete plug-and-play solution without the fiddly and frustrating assembly.
Datamate Backshells – And the Datamate Metal Backshells which protect signal integrity and provide strain relief on wires for a reliable connection.
Gecko-SL– We added 36 new options to the Gecko Screw Lok range to include 20, 26, 34 and 50 contact connectors.
Spring Contact Development Kit – The 16-part spring contact kit is an ideal prototyping partner for Electronic Design Engineers, featuring 20 of each style contact and offers free refills.
3.   Great South Run #TeamHarwin raise £4,000 for Chaos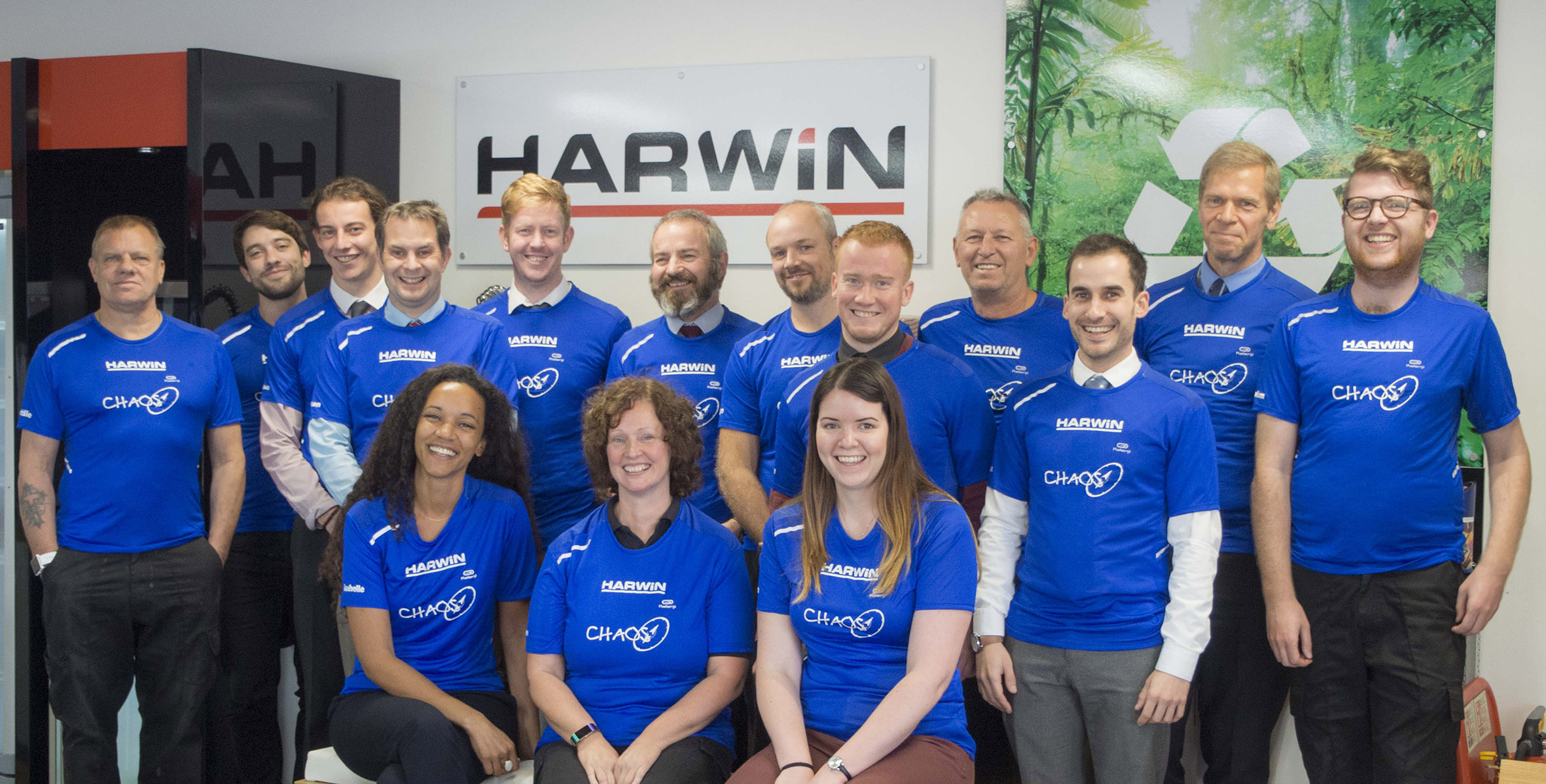 Another year, another Great South Run for Team Harwin. 18 volunteers put on their running shoes and trained hard for the 10 mile run in October through the heart of Portsmouth, UK. We ran to raise money for a local organisation; Chaos at Havant and Cosham – an independent organisation that supports individuals with learning disabilities, a cause proposed by one of our runners.
It was a breeze for some and a challenge for others, but ultimately it was all worth it for a good cause and presenting a cheque for £4,000 to the Chaos team was awesome. We've already got volunteers signed up for next year, there's no going back now!
4.   New Manufacturing Equipment
One of our top policies at Harwin is to replace equipment on a 5 year cycle to be at the forefront of new technology and innovation.
In 2017 we replaced 16 machines in our UK manufacturing site and increased our overall output with a total of 11 additional machines in areas such as the clipping and turning departments, tape and reel packaging and plastic extrusion molding areas.
In 2016 we officially opened a new 3-storey building on our manufacturing site, with the help of HRH Prince Michael of Kent, which is on its way to being full… something tells me "We're gonna need a bigger boat!"
5.   US Cable Assembly Facility
At the beginning of the year, Harwin invested in new tools, machinery and training at our cable assembly facility in Salem, New Hampshire.
The new equipment has allowed us to provide exceptional quality cabling for prototypes and early builds with no minimum order quantity required. We're also able to perform vigorous electrical and mechanical testing for cable, wire and coaxial assemblies, so all you have to do is wait for the postman.
6.   Awards
Who doesn't love an award? This year we entered several award categories and were thrilled to be chosen as finalists in these five prestigious award ceremonies.
Elektra Awards – Educational Support
ACE Awards – Passive, Interconnects and Electromechanical (Gecko-SL)
TechWorks – Manufacturing Site of the Year
ECN Impact Awards – Packaging, Interconnects and Enclosures (Gecko-SL)
BEEAs – New Product (Electronic) of the Year (Gecko-SL)
2018 is shaping up to be another good year for new product launches so who knows what awards may come our way. Watch this space…
7.   Website
Our website has evolved throughout the year with a new area for customers to ask Quick Questions and help others find similar answers quickly.
Our Live Chat feature is still very popular with customer satisfaction averaging 90%, that's music to our technical engineers' ears.
And of course, the very page you read, our blog, has now launched to give our customers access to interesting and informative content from within Harwin and the industry.
Well, we could go on but Christmas is just around the corner and those mince pies won't eat themselves! So from all of us at Harwin, have a Merry Christmas and a Happy New Year!
Uh oh, it looks like you are using an outdated browser version.
Some functions may not work as expected on Harwin.com in your current browser. For the best experience, more security and speed, we recommend updating your browser to the latest version.
(if you are using Internet Explorer, we recommend switching to an alternative browser.)
Still having issue? Contact [email protected] for help.