Interconnect Considerations in Size and Weight Restricted Drones
The environments in which drones operate are often demanding – having to deal with difficult environmental conditions, high degrees of vibration and potentially heavy shocks. There are also size and weight considerations that need to be factored in. Ensuring the successful operation of drones means that while miniaturisation is important, the constituent electronic components also need to exhibit the highest levels of robustness.
Reductions in size and weight of components are of obvious benefit for drones that are themselves constrained by these parameters. Their small and lightweight construction naturally limits the payload that they can carry. By designing in components with reduced size and weight means that such drones can use these savings on more payload, as well as covering greater range before needing to be recharged.
Harwin's high reliability connectors and cabling solutions combine compactness with a rugged but lightweight construction – enabling the necessary power and data to be totally assured without adding any unwanted bulk to the design.
The slimline 1.25mm pitch Gecko family represents a high performance alternative to conventional micro-D connectors. Specifying the Gecko-SL, with stainless steel screw-loks, offers a much greater resilience to vibration. Metal Backshells can also be fitted, if required, for additional strain relief and shielding.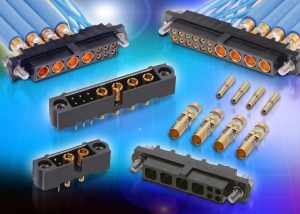 In order to keep the weight of wire harnessing down, the Datamate Mix-Tek family can accommodate power, signal and RF contacts inside the same compact housing. These connectors have current ratings per contact of either 20A or 40A.
Drones are finding new applications all over the world in a variety of sectors and will continue to do so for a long time to come. However related legislature and regulations develop, it seems likely that this technology will play an increasingly important role in the development of the commercial and industrial landscapes. Their adoption is therefore limited only by the confines of humans' imagination.
Check out these 7 industries utilizing drones to maximize efficiency.