3 Reasons to use Ready-Made Cable Assemblies
Not all cable assemblies are the same. Some connectors are easier to assemble than others. And it's not as simple as thinking "I'll choose the easiest one to assemble" as these may not be fit for purpose.
High-Reliability connector ranges are a classic example of this dilemma. The connectors can be a bit more complicated to assemble, requiring more tooling and experience – but the correctly completed cable assembly will be able to withstand some serious environmental factors, so effort is rewarded.
Of course, it's even easier to avoid this time and investment by getting the professionals to do the work for you – or even better, buy off-the-shelf from a ready-made range. Here's 3 reasons why this is a smart choice, and 1 reason why this might not work for you…
Tooling
The cost of tooling required for just one crimp type can quickly exceed $1000 – you'll probably need a crimp tool, a positioner and an insertion tool for low volumes of most high reliability designs. If you want to move to higher volumes, you're looking at an automated crimp machine. Then you need to prepare the wire too – automated stripping machines will give much better and consistent stripped ends to your wire. If you're looking at coax, a machine for stripping is frankly essential.
Inspection and testing of completed assemblies is also a critical part of the production process – and custom-made test rigs can escalate those costs even further.
But by specifying a ready-made cable assembly from the same manufacturer as the connectors, you know they already have all the tooling and inspection equipment they need and no partial cost for this tooling is likely to get passed to you as part of the product cost.
Training
As mentioned before, experience helps when it comes to crimping. Even better is training to IPC-620, which has become the worldwide industry standard for cabling quality in electronics. But, training costs both time and money, and relies on allocating additional production staff to the work. Specifying ready-made cable assemblies avoids all this additional resource and saves downtime within your workforce. Check the manufacturer is using staff trained to IPC-620, and you can be assured of good quality components and assemblies.
Time
So, you've decided to outsource the work, to save on tooling and training expenses. But there's still the lead-time wait required for custom-made cable assemblies. Wire must be purchased, production work must be scheduled around other customers, inspection and test must be completed on finished assemblies.
By specifying a ready-made cable assembly, the product comes from stock, no wait required (other than delivery times). The product has already been through all production, inspection and test cycles and is literally ready to fly out the door and into your process.
The downside: Tailoring
Ready-made cable assemblies are not always going to be the ideal solution. If you need very specific requirements, such as extra-long lengths, specialized wire types for your industry/application, or distinct labeling for cable bundles, then you will not be able to find anyone with these items ready and waiting. But that doesn't mean you have to do all the work yourself – cable assembly houses will often be happy to listen to your requirements, advise if they will work for the connectors chosen, and let you know the resultant costs and production time, so you can still save time and money by utilizing their expertise and resources.
An excellent example of ready-made cable assemblies are the Harwin Gecko-SL products. At 1.25mm pitch, the contacts are so small that handling is tricky – gloves are recommended to avoid skin cells from contaminating mating surfaces! But Harwin have designed and manufactured a wide range of cable assemblies: male and female single-ended or double-ended in all combinations; 26 and 28AWG cables with lengths of 6, 12 or 18-inch (150, 300 or 450mm).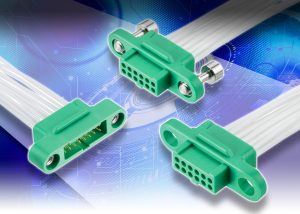 The cable assemblies are ready-made and in stock across the distributor network, fully inspected and tested by IPC-620 trained operators. If you need cable assemblies now for the aviation, space, motorsport, defense or robotics industries, then Gecko-SL cable assemblies are ready to go.
Read our guide to the cable connector and assembly options that are available from Harwin.
View the range of Ready-Made Cable Assemblies
Uh oh, it looks like you are using an outdated browser version.
Some functions may not work as expected on Harwin.com in your current browser. For the best experience, more security and speed, we recommend updating your browser to the latest version.
(if you are using Internet Explorer, we recommend switching to an alternative browser.)
Still having issue? Contact [email protected] for help.